When I saw the #Airtel4G ad on TV about the speed challenge, I already owned the Airtel's 4G LTE SIM Card and I know that G is not for Gadbad but for Gratifying speed. I converted my Reliance connection to a Airtel 4G SIM card as well as upgraded the Airtel 3G SIM to 4G SIM card. I was getting fantastic speed of upwards of 20 Mbps. This made Airtel the first telecom operator to roll out 4G services across 296 cities. This is a big achievement as compared to Reliance, where they kept talking about 4G and did nothing about it. The Reliance Jio just remained a dream for many.
Speed Test Results on iPhone6+ and OnePlus2 as on 20th August 2015.
However, the day Airtel launched the India wide campaign and rolled out their 4G services, their speeds actually dropped in my area and I tweeted about the same. While I understand that it's not easy to deliver services at such a scale and systems do face hiccups, I was hoping that it's just a hiccup and not going to be a repeat phenomenon. In-fact it was not.
When I got #Airtel4G I saw d/L speed 25 Mbps. Today on India launch speed has dropped to 1Mbps http://t.co/1FSoWrllOc pic.twitter.com/qpzd4lzHf6

— SachinUppal (@sachinuppal) August 6, 2015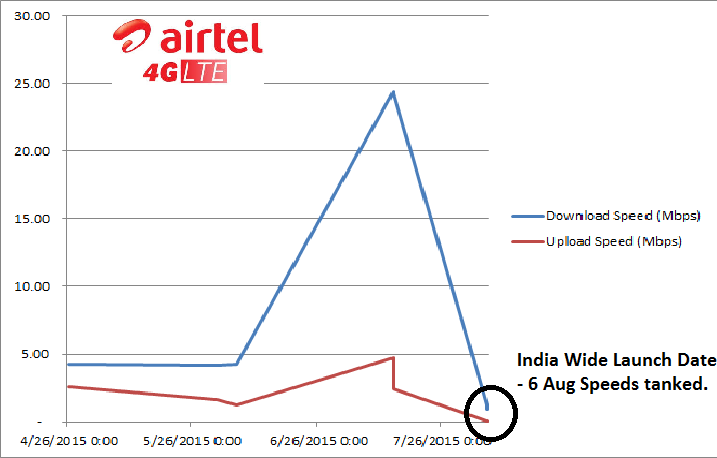 This Gadbad didn't last long. I checked the speeds in the past 3-4 days and the speed seems to have restored back to previous level. And I tweeted about the same today.
#Airtel4G speed test results on #OnePlus2: http://t.co/eVSpcKvQHs via @YouTube — SachinUppal (@sachinuppal) August 20, 2015
In-fact, I upgraded from OnePlus One phone to OnePlus2 invite courtsey @Olacabs
Congratulations @nikologicz @jalanpurvi @girija_kriz @Twisted_al @PrabhatPaswan @sachinuppal @GreatPunekar DM email address. #OlaOnePlus2

— Ola (@Olacabs) August 16, 2015
I got an invite through a contest that I participated. #OlaOnePlus2 with the tweet below got me an invite to One Plus 2. See my winning tweet below.
Can't wait any more, send my invite @Olacabs #OlaOnePlus2 pic.twitter.com/7aj4FLczjM — SachinUppal (@sachinuppal) August 16, 2015
I did a video recording of the speed test results on my One Plus 2 phone using my iPhone 6+. See the video below:
[youtube https://www.youtube.com/watch?v=8fTDWagmjtE]
Downloads
I was able to download songs using Gaana.com app at a lightening fast speed. Also, youtube videos stream super fast on my LTE connection both on my iPhone 6+ and the OnePlus2.
Tethering
I have tried tethering this connection with my laptop and it gives a decent 17 Mbps speed.

4G SIM on tweet and Pricing
By the way, I also liked your tweet based SIM ordering service #GetAirtel4G hash tag. Seems like its getting popular with a lot of people. Especially the pricing is much better than 3G. I used to pay around Rs. 2000 and now I am paying only Rs. 1500 and I get awesome speed. The free delivery of SIM card to home is another fantastic initiative. I really appreciate how Airtel has launched their 4G service this time. Very well thought through and good execution. Continue the good work #Airtel4G!
I seriously hope that Airtel continues to maintain this high speed 4G service and don't let it go down like the 3G. The Prime Minister's digital India initiative needs us to build information high ways this infrastructure is the back-bone for such ambitions projects to take flight and see the light of the day.